While the Electronic Medical Record (EMR) can give us many tools to care for patients, using the EMR to maximal advantage can feel overwhelming. To help with improving efficiency in the EMR, the Department of Medicine has organized some options for working on Epic efficiency and optimization.
Clinicians in the Department of Medicine are eligible for personalized assistance with the department's Epic Clinician Champions. Interested clinicians can email Dr. Sara Horst.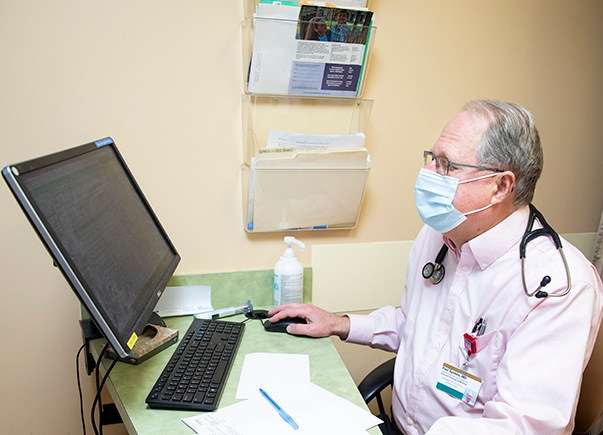 Epic Efficiency Resources
Current faculty and trainees can visit the department intranet to access these resources such as short videos and tip sheets for several areas of EMR work, including:
Office Visits
InBasket
Chart Review
Reporting
Inpatient Care
Telehealth
Associate Vice Chair for Digital Health Operations
Associate Professor of Medicine and Assistant Chief for Clinical Informatics, Division of Gastroenterology, Hepatology and Nutrition
Department of Medicine
Sara Horst MD, MPH, FACG, is an Associate Professor in the Division of Gastroenterology, Hepatology and Nutrition at Vanderbilt University Medical Center. Dr. Horst completed her medical school and residency training at The Ohio State University and then went to Vanderbilt University Medical Center for Gastroenterology Fellowship and to obtain her Masters of Public Health.
She joined the faculty at Vanderbilt University Medical Center in 2011. She is involved in clinical care of complex IBD care, clinical research, and teaching and mentoring. She has several administrative leadership roles at VUMC surrounding her interest in advancing Digital Health, is an Epic Physician Builder, and is on the national EPIC GI Steering Committee.
Dr. Horst's research interests involve psychosocial outcomes in IBD, medication adherence in IBD, and telehealth in IBD. She has extensively published in peer reviewed journals. She is also an Associate Editor for American Journal of Gastroenterology.