Division of Rheumatology and Immunology
---
The Division of Rheumatology and Immunology at Vanderbilt University Medical Center (VUMC) is strongly committed to core Medical Center and Department of Medicine missions in clinical care, education and research that benefit patients with systemic autoimmune and musculoskeletal disorders.
Supporting these missions are our faculty, which consists of leading researchers, clinicians, and educators. We offer comprehensive clinical care for those with rheumatic and autoimmune diseases.
Rheumatic diseases affect the joints, muscles, and bones. Arthritis can cause pain, swelling, stiffness, deformities, and functional impairment. Systemic autoimmune diseases can involve almost any organ system and the division has established exceptional multidisciplinary collaborations across Vanderbilt that add their expertise to our care teams. We provide multidisciplinary care for patients with systemic autoimmune diseases in specialized centers that incorporate research within the clinical setting.
The clinical activities of the division include ambulatory care at VUMC, the Nashville Veterans Affairs Medical Center, Nashville General Hospital, and clinics in Davidson and surrounding counties. We also provide comprehensive in-patient consultation services.


Research to solve problems in immunology
In addition to an active clinical program, faculty also have active research programs to solve basic problems in immunology and cell biology related to autoimmune and inflammatory diseases, and to solve clinical questions that may impact health care in the future.
The division was supported by approximately $5.3 million in funding from federal and non-federal sources for the 2021-2022 year to investigate immune mechanisms and complications of rheumatic diseases.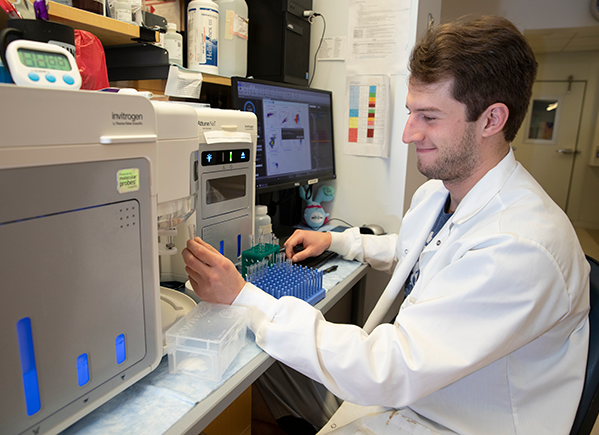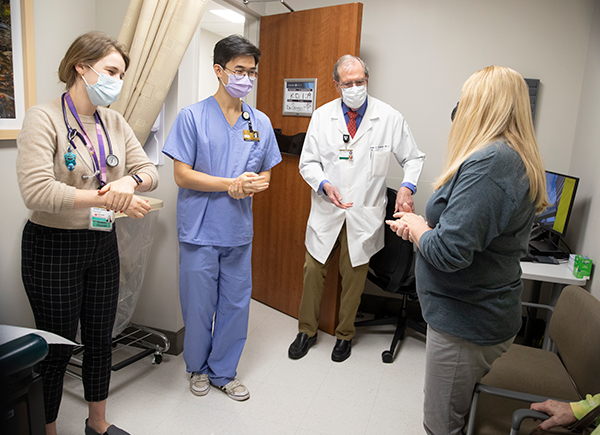 Committed to scholarship and excellence
The division is strongly committed to scholarship and excellence. There is a robust career development environment at Vanderbilt, as evidence of NIH career development awards tripling at Vanderbilt over the last 10 years.
Early-career faculty, as well as fellows in our Rheumatology and T32 fellowship training programs, have abundant opportunities for scholarly activities. Trainees also have the opportunity to participate in Vanderbilt's Master of Public Health, Master of Science in Clinical Investigation and Master of Health Professions Education degree programs.
Division History
The history of Rheumatology at Vanderbilt began with Dr. Albert Weinstein who included rheumatoid arthritis among his interests in Internal Medicine. In the early 1940s, Weinstein began to use aurotherapy (intramuscular gold) to treat patients with Otopalatodigital Syndrome at the Arthritic Clinic. Dr. Weinstein's work drew interest from his colleague, Dr. Rudolph Kampmeier. 
In a 1948 report to Dr. Hugh Morgan, Dr. Kampmeier stated that in addition to the use of gold, salicylates and para-amino benzoic acid (PABA) were used for treatment of arthritis. The pharmaceutical company that supplied the medication provided financial support to Drs. Robert Quinn and John Shapiro in their studies of immune reactions to differentiate rheumatoid arthritis and other rheumatic diseases.
In 1955, Dr. Kampmeier received a six-year training grant from the National Institute of Arthritis and Metabolic Disease. Dr. Weinstein's associate in practice, Dr. Ben Alper, became interested in arthritis and, in 1956, utilized a portion of this grant to support his studies at the Rackham Arthritis Unit at the University of Michigan. Upon his return, Dr. Kampmeier turned over all of his arthritis patients and classes in the subject to Dr. Alper, who became the true architect of VUMC's Division of Rheumatology and Immunology.
Drs. John Sergent and Theodore Pincus served as directors of the Division of Rheumatology and Immunology in the l970s and 1980s. Dr. Pincus was director for over 10 years, at which time he developed clinical trials and outcomes research in rheumatoid arthritis. Dr. Pincus' research also described the important contribution of education level for disease outcome. Studies of patient-reported outcomes continue to be an active part of the clinical research done at Vanderbilt today.
In 1992, Dr. James Thomas was named interim division director until he was appointed to the role of director in 1996. During his tenure, the division was awarded its first T32 training grant and dramatically increased its research output. Dr. Thomas served in that position until the current director, Dr. Leslie Crofford, succeeded him in 2014.
Director, Division of Rheumatology and Immunology
Department of Medicine
Leslie Crofford, MD, is Wilson Family Chair in Medicine, Professor of Medicine and Professor of Pathology, Microbiology and Immunology. She has been Division Chief of Rheumatology & Immunology since 2014. Her research is focused on understanding autoimmunity, inflammation, pain, and stress as mediators of rheumatic diseases. More than 300 journal articles and book chapters have been published as a result of her research.