Impactful research that informs excellent patient care
The division's research mission builds on its clinical practice, capitalizing on VUMC's diverse patient population and the innovative work of exceptional basic and translational scientists. Supported by nearly $3 million in NIH funding, as well as by significant funding through Veterans Affairs and foundation grants, faculty are actively engaged in the research of systemic autoimmune diseases and musculoskeletal disorders through the work of collaborative research centers and labs.
As a result of their research, faculty are well published with manuscripts appearing in leading journals such as Nature Communications, the Journal of Clinical Investigation and Annals of Internal Medicine.
The division works closely with the Vanderbilt Institute for Clinical and Translational Research (VICTR), the Vanderbilt Institute for Infection, Immunology and Inflammation (VI4) and the Vanderbilt Center for Immunobiology (VCI). Our investigators have access to tremendous core laboratories to increase our research efficiency. In addition to our fundamental and translational immunology, we have made use of unique resources at Vanderbilt including BioVU, one of the largest DNA biobanks in the world, linked to clinical data through our de-identified mirror image of the electronic health record.
Disease-specific cohorts with linked biospecimens for patients with systemic sclerosis, inflammatory myositis, vasculitis and other systemic autoimmune inflammatory diseases are available to stimulate research in these complex systemic diseases.
Clinical Trials
A clinical trial is a regulated, systematic way to answer a question related to health care. The results can range from finding a better way to detect or control a disease or disorder to prevention and cure. Also called medical research or research studies, clinical trials are used to determine the safety and effectiveness of new drugs or treatments for the people who may need them.
Patient volunteers are monitored for side effects by closely supervised and ethically designed trials. As with any medical intervention, there are potential risks that participants need to know before deciding to enroll in a clinical trial. Participation may require visits to Vanderbilt University Medical Center in Nashville, Tennessee, and/or its affiliates. Any questions you may have about the study will be answered before you participate.
Volunteers are needed in all areas of clinical research, from trials in healthy volunteers to disease-specific studies. Through their involvement, volunteers have the opportunity to participate in clinical research that may bring about advances in science and health care.  Our group was among the first to show that coronary atherosclerosis was increased in patients with inflammatory diseases such as rheumatoid arthritis (RA) and systemic lupus erythematosus (SLE). Faculty have studied the role of traditional and non-traditional risk factors and biomarkers for atherosclerosis in patients with RA and SLE.
Ongoing studies include the evaluation of the role of salt on inflammation, and the role of micro-RNAs in RA susceptibility and treatment response. This research is funded by the NIH and the U.S. Department of Veterans Affairs.
For information about research studies in the Division of Rheumatology and Immunology, please call (615) 322-4746.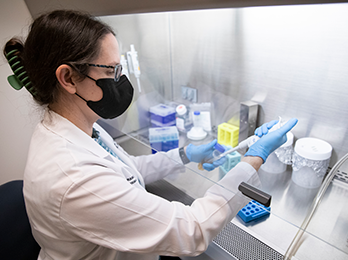 Research Centers and Labs
Learn more about our division's research centers and labs below.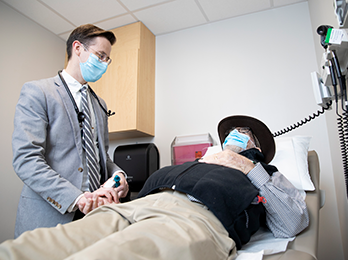 Clinical Trials
Explore NIH- and VA-funded clinical trials currently being led by members in the Division of Rheumatology and Immunology.
Publications
Read the latest research published in leading journal by Rheumatology and Immunology faculty.