International health education is an important aspect of the Vanderbilt Med-Peds Program. We look forward to supporting your international experience in our program through the Med-Peds and International Health Elective Experience.
More information is available at the Vanderbilt Institute for Global Health.
Below, two former residents share their experiences working in other countries:
Patricia Chu, University Teaching Hospital, Lusaka, Zambia, 2020
"I spent one month at the rotating on the adult infectious diseases consult service and the pediatric HIV clinic. On the adult ID consult service, I worked with house staff at UTH seeing patients with a multitude of pathologies such as HIV-related opportunistic infections, multi-drug resistant tuberculosis, and parasitic infections. In the HIV clinic, I learned about management of children and young adults with HIV, as well as the challenges they face transitioning to adult clinics. During my rotation, it was particularly meaningful to be able to take care of patients with HIV across all ages and get a glimpse into a different medical training and healthcare system. 
I developed a deep appreciation for how my Zambian colleagues diagnosed and managed complex patients despite having limited resources at their disposal. I feel very lucky to have had the opportunity to work and learn alongside residents and faculty at UTH and hope to be able return in the near future!"
Dr. Chu in Zambia: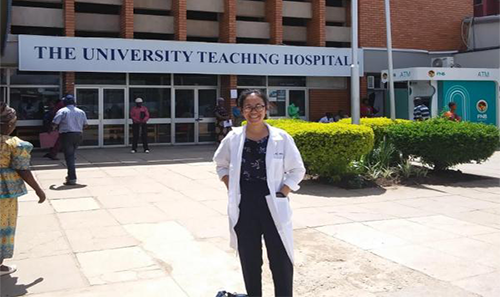 ​​​​​​​
---
Dr. Tara Lane, University Teaching Hospital, Lusaka, Zambia
"During my third year of residency, I traveled to Lusaka, Zambia to complete a rotation at the University Teaching Hospital (UTH). For the first part of the rotation, I worked on the infectious disease (ID) consult service, and it is amazing how much I learned in a short amount of time.
One of my objectives for rotating at an international site was to learn about diseases that are not common in the U.S., with the hope to return home and both teach my colleagues and be more prepared to recognize and manage these diseases should I see them in recent immigrants, refugees, or travelers. During this rotation I saw patients with multiple iterations of tuberculosis (pulmonary TB, TB meningitis, TB arthritis, possible TB pericarditis), which is something I often screen for in the U.S. but rarely diagnose. I also saw a much higher prevalence of HIV than I do in the U.S., especially in admitted patients. I had the opportunity to work in the HIV clinic, where I learned more about the disease but also about its social impact and how programs such as PEPFAR have influenced HIV treatment in Zambia.  
During the second part of my rotation I worked in the pediatric malnutrition unit. This is a dedicated unit for children with severe acute malnutrition. I have seen malnutrition in the U.S., usually in the context of another disease such as cancer, inflammatory bowel disease, anorexia nervosa, etc.  his was the first time that I saw malnutrition on a more severe and systemic level. The most striking part about caring for these children was that malnutrition is an avoidable problem. The reason for malnutrition is multifaceted, but underlying systemic issues (at least from what I could tell from my short time there) such as poverty, difficult access to nutritious foods, lack of access to clean water leading to diarrheal disease, and prevalence of comorbid conditions (such as HIV, TB, and malaria that decreases a child's reserve) are contributing factors.
Beyond gaining medical knowledge, another (and more important) goal I had for this rotation was to learn about healthcare delivery in resource-limited settings and improve my ability to care for individuals in such settings. Working in an environment and country that is different than my own provided insight that would not be possible if I never traveled outside of the U.S. I am grateful to the attendings, residents, and nursing staff whom I worked with. They took extra time to teach me, incorporate me into the team, and discuss the differences and similarities between our home countries' healthcare systems.
My career goal is to work in med-peds primary care, and I hope to provide quality care to diverse patient populations, regardless of their income or social barriers. This rotation emphasized the importance of healthcare access and resources for all people. I am grateful to both VUMC and UTH for their support during this integral part of my residency training."
Dr. Lane in Zambia: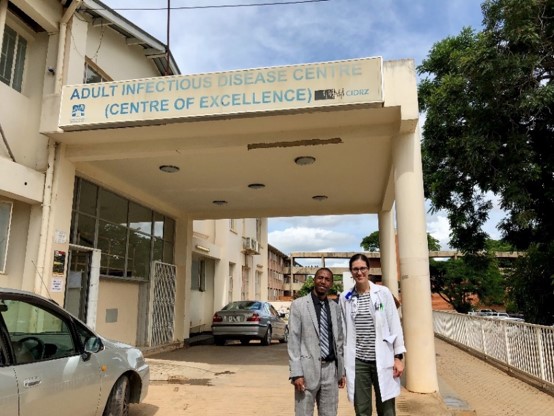 ​​​​​​​