Division of Gastroenterology, Hepatology and Nutrition
Diversity and Inclusion
---
Increasing diversity is an overarching priority of the Vanderbilt Division of Gastroenterology, Hepatology, and Nutrition and we have actively sought to reduce barriers for recruitment and academic success of underrepresented minority (URM) trainees.
Through substantial financial commitments, novel and expanded recruitment efforts, individualized mentoring and policy change, our division has successfully increased diversity at the level of our fellowship program (32% URM Fellows in the last five years). We have also demonstrated a strong commitment to diverse leadership by hiring two outstanding Black female Hepatologists in the last year: Shaki Salvador, a clinician-educator whose research focus centers on reducing racial barriers to liver transplantation, and Ashley Spann, a physician-scientist who is pioneering Digital Health as a mechanism to optimize liver transplantation outcomes.
In terms of research, our division forged an alliance with Meharry Medical College in Nashville, one of only three HBCU medical colleges in the country, and received NIDDK funding to develop an inaugural Digestive Diseases URM Symposium, held in the spring of 2022. This symposium featured five internationally renowned URM investigators (John Carethers, Byron Cryer, Chyke Doubeni, Juanita Merchant, and Lanla Conteh) who presented scientific talks and participated in career development sessions for digestive diseases trainees and researchers at VUMC, URM trainees and faculty at Vanderbilt, and trainees and investigators at Meharry.
This event has catalyzed a new Annual Diversity Symposium Series for which our division has partnered with the Vanderbilt P30 Diabetes and Research Training Center (DRTC), the Vanderbilt GI SPORE program, and Meharry to invite two successful URM investigators per year to present a research seminar and host a career mentoring session with URM medical students, residents, fellows and junior faculty investigating digestive diseases and diabetes at Vanderbilt and Meharry. This year's symposium was held June 9 and the featured speakers are Drs. Monica Peek, Professor for Health Justice at the University of Chicago, and Patricia Jones, Associate Professor of Medicine at the University of Miami.
Vanderbilt DEI Resources:


Diversity Liaison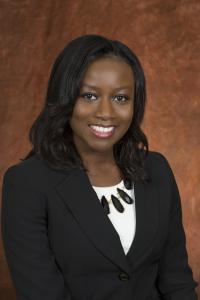 Shakirat Salvador, MD ​​​​​​​
Assistant Professor of Medicine