The mission of the Vanderbilt University Medical Center Residency Program is to train future leaders in academic medicine who will improve the human condition through the practice of medicine, education, research, and service. Our program aims to:
Recruit highly qualified trainees who desire a rigorous clinical experience, supervised autonomy, and deep exposure to medical discovery.
Connect our residents with institutional resources to cultivate scientific curiosity and innovative thinking.
Provide comprehensive and compassionate care across the spectrum of internal medicine to a diverse group of patients from all backgrounds, including those from underserved urban and rural communities.
Maintain and expect the highest standards of clinical care and professionalism at all times.
Tailor each resident's experience to align with their career objectives.
Promote diversity to ensure that our trainees and faculty reflect the population we serve.
Solicit critical input from all stakeholders into our program structure and focus, driving innovation in medical education and professional development.
We assist residents in creating their own unique elective experiences based on their clinical interests and career goals; these are frequently coordinated outside of the Department of Medicine.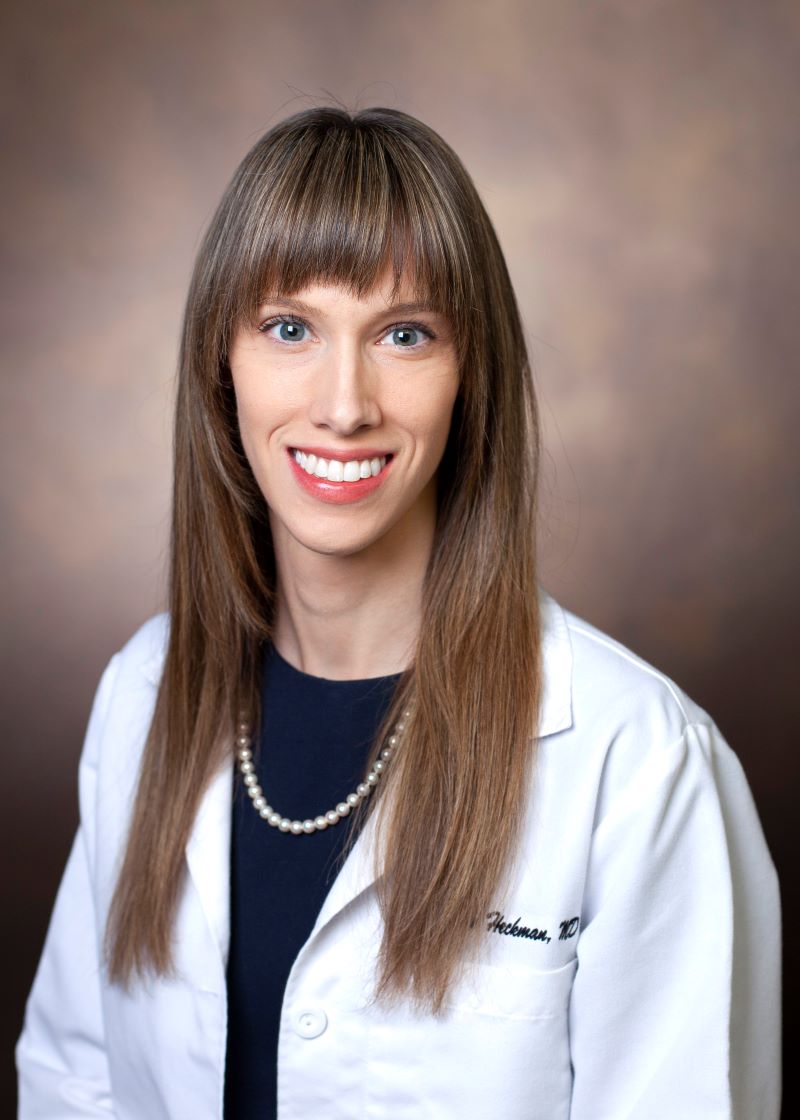 Katherine Heckman, MD
VU Outpatient / Ambulatory Chief
VUMC Resident Voices
"Vanderbilt's ambulatory curriculum provides an authentic primary care experience, as each resident serves as the primary care physician for their own panel of patients longitudinally over three years. This structure enables residents to develop confidence and graduated autonomy in ambulatory medicine, all with the support of a dedicated team of preceptors and nurses.
The mentorship and opportunity for professional development gained by working with the same small group of outpatient attendings throughout residency is a great asset for residents. Further, this continunity of care fosters rewarding logitudinal relationships with patients and families, and the fulfillment of positive progress in chronic disease management."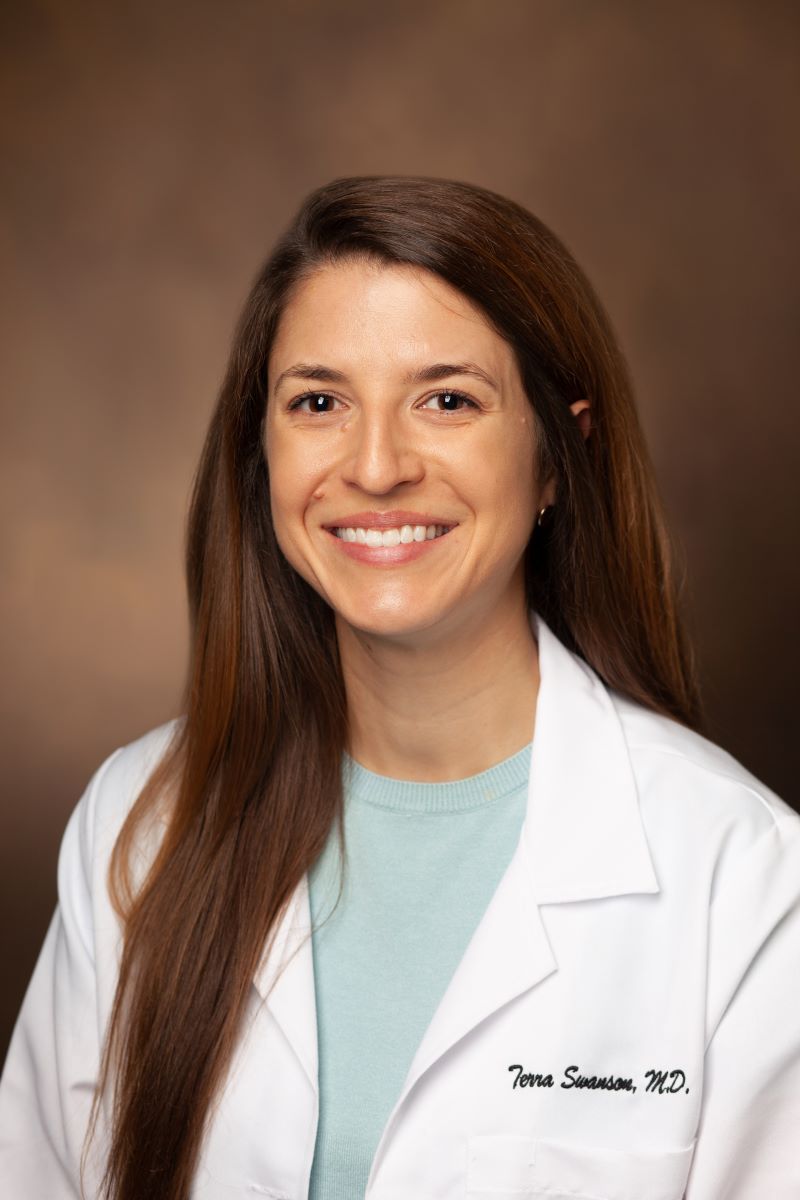 Terra Swanson, MD
VA Inpatient Chief
VUMC Resident Voices
"Our training hospitals expose residents to a wide variety of complex and rare pathology, while ensuring significant volume of common disorders. The Vanderbilt University Medical Center and Nashville Veterans Affairs Hospital sit alongside one another, two miles from downtown Nashville. The proximity of the hospitals and connecting skybridge allow residents to seamlessly transition between the two. The breadth of different clinical experiences, the exceptional faculty at both hospitals, and the inspiring patient populations all provide a strong foundation for a successful career in any field trainees decide to pursue."
---
All residents rotate on a "4+2" block schedule with two-week ambulatory rotations separated by four-weeks of inpatient or elective rotations. Residents rotate through a variety of inpatient services at Vanderbilt University Medical Center and the Nashville VA, including general medicine, medical intensive care, geriatrics, and several inpatient subspecialty services. Inpatient rotations are usually two weeks in duration.
While highly customizable, this chart summarizes the rotation distribution of a typical resident:
| Rotation | PGY-1 | PGY-2 | PGY-3 |
| --- | --- | --- | --- |
| Inpatient General Medicine | 10 weeks | 4-8 weeks | 4-8 weeks |
| Ambulatory Medicine | 14 weeks | 14 weeks | 14 weeks |
| Medical/Cardiac Intensive Care | 6 weeks | 4-8 weeks | 4-8 weeks |
| Inpatient Subspecialty Services* | 10-12 weeks | 6 weeks | 6-8 weeks |
| Geriatrics | 2 weeks | 2 weeks | - |
| Emergency Medicine | 2 weeks | - | 2 weeks |
| Night Float | 4-5 weeks | 3 weeks | 2-3 weeks |
| Electives | - | 4-6 weeks | 8 weeks |
| Vacation | 3 weeks | 4 weeks | 4 weeks |
*Inpatient subspecialty services include: general cardiology, heart failure, malignant hematology, medical oncology, hepatology, infectious diseases, nephrology, and pulmonary medicine.
**All residents are granted additional vacation time (usually 4-5 days) beyond that listed in late December or early January.
The Residency Program offers a wide array of established electives, including: inpatient subspecialty consult rotations at VUMC and/or the VA as well as outpatient-based rotations, including all internal medicine subspecialties, dermatology, neurology, psychiatry, and sports medicine.
​We also assist residents in creating their own unique elective experiences based on their clinical interests and career goals; these are frequently coordinated outside of the Department of Medicine. These include:
Women's health
Addiction medicine (inpatient and outpatient)
Community medicine (rotations are available at several local facilities)
Social Medicine
Procedure service
Point-of-care ultrasound (POCUS)
Adult Sickle Cell 
Research electives (protected research time and the Clinical Investigator Toolbox)
Faculty and residents have created an overall curriculum map for the educational experiences provided throughout the three years of Vanderbilt Internal Medicine Residency.
Our goal in creating this educational map is for all residents, fellows, and faculty to have the same mental model or shared expectations of each educational unit.
Please see the full outline of the resources available in the Internal Medicine Residency Program Curriculum.


The clinical environment of the Vanderbilt Internal Medicine Residency Program offers the advantages of a metropolitan population base and a cohesive, fully integrated multi-hospital system.
Training is centered at the Vanderbilt University Hospital and the adjacent Nashville Veterans Affairs (VA) Medical Center. These clinical training sites give residents a chance to care for patients from every socioeconomic background and to develop clinical competencies across a wide range of internal medicine problems.
Vanderbilt University Hospital: Vanderbilt University Hospital is both a comprehensive general hospital for Nashville/Davidson County and a major tertiary care center. It includes all major medical and surgical specialties, and the emergency service has Level I trauma certification.
The Department of Medicine inpatient service includes seeing patients in general medicine, medical subspecialties, CCU/cardiovascular medicine, medical intensive care unit, and the bone marrow transplant service.
Nashville Veterans Affairs Medical Center: The Nashville VA Medical Center is an acute care facility with medicine, neurology, surgery, and psychiatry services. Located adjacent to Vanderbilt University Hospital and the Vanderbilt University School of Medicine, the Nashville VA Medical Center functions as a primary care and referral center for eligible veterans in the region.
There is a strong academic affiliation between the Nashville VA and Vanderbilt University. All VA medical faculty have academic appointments within the Vanderbilt Department of Medicine. Approximately three months of the intern year are spent on rotations at the VA Medical Center.
Residents rotate through the inpatient general medicine service, pulmonary and cardiac intensive care units, subspecialty consult services and outpatient clinics. There are six general medicine inpatient teams as well as a stem cell transplant team.
Inpatient attending physicians typically rotate for two weeks and typically switch on PGY-1 switch days, thus maximizing continuity with the resident team. Bedside teaching rounds are conducted daily on all inpatient clinical services to optimize learning and patient care.
The emphasis of attending rounds is on developing fundamental clinical skills, diagnostic reasoning, and professionalism as well as on the bedside review of the pathophysiology of disease. Special emphasis is given to evidence-based medicine. On our subspecialty services, this format allows residents direct access to experts in the field of specialization.
Our residents are provided with a number of information resources, including Up-to-Date, ePocrates, Micromedex, and PubMed. As a result, our residents can access clinical information and literature from any location within the hospital or clinic.
All medicine residents receive a copy of our annual Housestaff handbookwhich provides general and hospital specific guidance on diagnosis and management of common medical problems internists manage.
Continuity Clinic
Our program emphasizes the importance of ambulatory medicine and primary care for all medical residents. Each incoming intern is assigned a continuity clinic for which they provide longitudinal care to a panel of patients throughout their entire residency.
Under our 4+2 block schedule, all residents have three half-days of continuity clinic per week during their two-week ambulatory blocks. Our continuity clinics are located at Vanderbilt One Hundred Oaks or at the Nashville VA Medical Center.
Residents work closely with a subset of faculty clinic preceptors who provide oversight, teaching, and mentorship throughout their residency. Our clinic nurses and support staff, along with robust informatics, allow residents to keep up with their responsibilities to their panel of clinic patients while rotating through various inpatient services.
Throughout residency, house staff also gain experience working in a wide array of subspecialty clinics that reflect the breadth of outpatient medicine, including:
Allergy and Immunology
Cardiology
Community Health Centers
Dermatology
Endocrinology
Gastroenterology
Hematology
Hypertension
Infectious Diseases
Nephrology
Oncology
Pulmonary Medicine
Rheumatology
Women's Health
Residents with a specific clinical area of interest are able to arrange for a longitudinal specialty or community-based clinic experience in addition to their primary care continuity clinic.
Quality Improvement in the Continuity Clinic setting
Employing principles and tools of quality improvement, our residents learn how to develop and test interventions designed to improve patient care. These opportunities occur at multiple points throughout residency.
Each year, residents measure the care they provide to their continuity clinic patients along various preventative and chronic disease management metrics using tools acquired during quality improvement didactics.
Mentors in quality improvement, many of whom have completed the VA Quality Scholars Fellowship, subsequently assist residents in developing improvement targets and using Plan-Do-Study-Act cycles to achieve their targets.
PGY-2 Quality Improvement Project
The quality improvement (QI) curriculum at Vanderbilt empowers residents to be involved in quality improvement efforts at both the microsystem and the macrosystem level. 
Utilizing the Institute for Healthcare Improvement Model for Improvement framework, residents chose and execute QI projects. Projects are resident-driven and have focused on improvements in patient care, addressing a myriad of areas including patient safety, patient care, clinically efficiency, and resident wellness. Curricular time for QI is within the academic half day, and content is a mix of integrated didactics and team-based, experiential learning.
Morbidity, Mortality, and Improvement (MM&I) Conferences
Residents participate in two quarterly MM&I conferences: one conference is limited to residents and core faculty and one is open to the entire Department of Medicine. With a focus on process-related issues, conference participants identify and propose solutions to system-based problems. Quite frequently, these conferences generate a resident-run quality improvement project that is subsequently addressed in dedicated quality improvement didactic sessions. Many of these projects have resulted in changes with hospital-wide impact.
Simulated Patient Experiences
Residents use Vanderbilt's state-of-the-art patient simulation center called CELA (Center for Experiential Learning and Assessment) to supplement their education. Residents practice critical care procedures, such as intraosseous or central venous catheter insertion, and participate in mock codes before they become code team leaders in their PGY-2 year.
Additionally, CELA experiences are used to evaluate residents in the core competencies using standardized patients. These individualized sessions allow residents to receive one-on-one feedback from clinical faculty.
Inpatient Morning Report
During inpatient rotations at Vanderbilt University Medical Center and the Nashville VA Medical Center, residents attend inpatient morning reports several times weekly. Inpatient morning reports are led by the inpatient chief residents and are regularly attended by program leadership and core faculty, including Dr. Brian Christman, Chief of Medicine at the VA, and Drs. John McPherson and John Sergent, our current and former program directors. 
We begin morning report with a case recently admitted to the teaching services and then a selected case by a resident. Residents work through the cases in groups with faculty members, developing differential diagnoses and practicing clinical reasoning. Team members presenting the case often benefit from hearing experts in the room chime in on the differential diagnosis. After a diagnosis is revealed, the resident gives a brief presentation on the disease and answer a clinical question using primary literature. 
Professor Rounds
Residents on inpatient rotations at Vanderbilt University Medical Center attend Professor Rounds on Tuesdays. With the assistance of the inpatient teams, Dr. Kimryn Rathmell, our Chair of Medicine, critically thinks through a challenging case. The focus is on developing skills in clinical reasoning. Advanced questions particular to the disease being discussed are directed towards an expert faculty ringer in the audience after a diagnosis is reached.
X-ray Rounds
Interns on inpatient rotations at the Nashville VA Medical Center attend Imaging Rounds on Tuesdays. The Chief of Medicine at the VA (and one of our Assistant Program Directors), Dr. Christman, teaches his approach to reading chest X-rays and other imaging studies.
Gel Rounds
Residents on inpatient rotations at the Nashville VA Medical Center attend Gel Rounds on Tuesdays. Hospitalists and Pulmonary fellows provide hands-on point-of-care ultrasound (POCUS) teaching at the bedside. 
Electrolyte Rounds
Thursday mornings at the Nashville VA, Dr. Arroyo (former VUMC Chief Resident and current nephrology attending) provides chalk talks on electrolyte disturbances.
Academic Half-Day
While on ambulatory blocks, interns and upper-level residents participate in our academic half-day that occurs on Thursday mornings. This is a three-hour interactive session that incorporates case-based learning, physical exam skills, journal club, and other didactic sessions. This is led by the ambulatory chief residents and is regularly attended by program leadership.
The core curriculum includes advanced general internal medicine and medical subspecialties and is taught by faculty from the various divisions of internal medicine, guest lecturers from other departments, and our current residents. Academic half-day focuses on a "theme" for each block, which is typically a medical subspecialty area (i.e. Rheumatology, Cardiology, Infectious Diseases, etc.). This allows our interns and residents to focus their learning within one subspecialty while actively concentrating on evidence-based approaches to outpatient medicine.
Residents also can present patients at our ambulatory intake, which allows for resident-led case discussions focused on outpatient medicine. Academic half-day also serves as a time for discussions in ethics, resiliency, and high-value care. 
Ambulatory Intern Didactics
During the first part of the year, the interns receive didactic lectures in general internal medicine which are taught by faculty from the Division of General Internal Medicine and Public Health. Topics include Preventative Medicine, Pain Management, and Anxiety and Depression Management. 
Following this, the interns join the residents for the core curriculum; although throughout the year, there are additional didactic sessions reserved for interns for training sessions on the management of a primary care clinic and a didactic series in geriatrics.
Quality Improvement Didactics
PGY-2 residents have time reserved during academic half-day to participate in a longitudinal quality improvement curriculum. Residents receive training in the principles of quality improvement and acquire the essential tools to perform quality improvement. They then apply these tools in two ways:
To improve outcomes for their cohort of continuity clinic patients
To solve system-level problems identified during program morbidity, mortality, and improvement (MM&I) conferences
Residents present the outcomes of these projects in a program-wide conference at the end of the academic year. Resident-generated projects can result in changes that impact the entire hospital.
Core Lecture (Chalk Talk) Series
This inpatient didactics series takes place on Mondays at noon. It is a set of foundational lectures given by core faculty-directed at clinical problems commonly encountered by residents on the wards. The pathophysiology of hallmark diseases is reviewed in an interactive manner, and the presenting faculty use a "chalk talk" approach without PowerPoint slides. Subsequently, the management of these diseases is reviewed according to best evidence with the added goal of familiarizing residents with the most often-cited studies in internal medicine and its specialties.
Clinical Approach Series
This inpatient didactic series takes place on Wednesdays at noon. This series was created after a resident QI project showed residents desired more clinical-based teaching during noon conference and speakers are arranged by a resident-led committee. 
These lectures are typically management-focused lectures provided by VUMC fellows in various medicine subspecialties and the core topics include: Respiratory failure, Hypotension on the floor, Afib/flutter, Heart failure, Cirrhosis, Adrenal insufficiency, Pancytopenia, Inpatient HIV admission, Hyponatremia, Oncologic Emergencies.
Board Review Series
Upper-level residents attend a Board Review Series on Wednesdays, which is division-themed so that a fellow expert from the featured division can be present to address any questions that may arise.
Intern Report
Intern Report takes place on select Fridays at noon and is dedicated time for Vanderbilt University Medical Center administrative leaders to hear intern feedback on processes relevant to day-to-day clinical operations. Many operational improvements have emerged from this conference.
Chief Resident Lectures
The chief residents present a weekly Tuesday conference in a "Curbsiders" format with an expert discussant. They use a case to highlight important clinical evaluation and management using evidence-based practice. Select Tuesdays are reserved for Clinicopathological Conferences (CPCs) and Departmental Morbidity, Mortality, and Improvement (MM&I) Conferences. 
Medicine Grand Rounds
Medicine Grand Rounds takes place on Thursday mornings. The entire department gathers to learn about the latest in disease management and patient care from top faculty at Vanderbilt and invited speakers from across the nation.
Other Lectures
There are other lecture series on Wednesdays and Fridays throughout the year, including Wellness Wednesdays, Palliative Educational Curriculum (PCEC), Social Medicine, Global Medicine, Point-of-Care Ultrasound (POCUS), and EXCellence In Teaching (EXCITE), our medical education pathway. 
Residency at Vanderbilt is: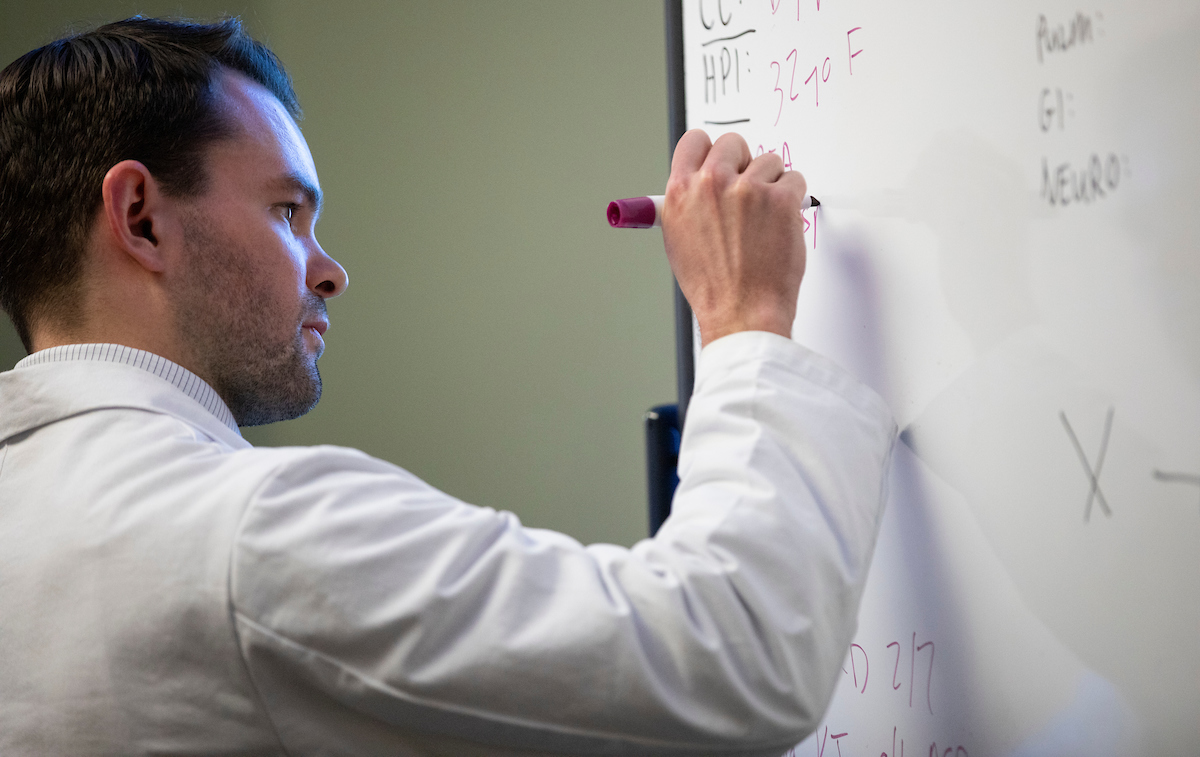 Conferences and Didactics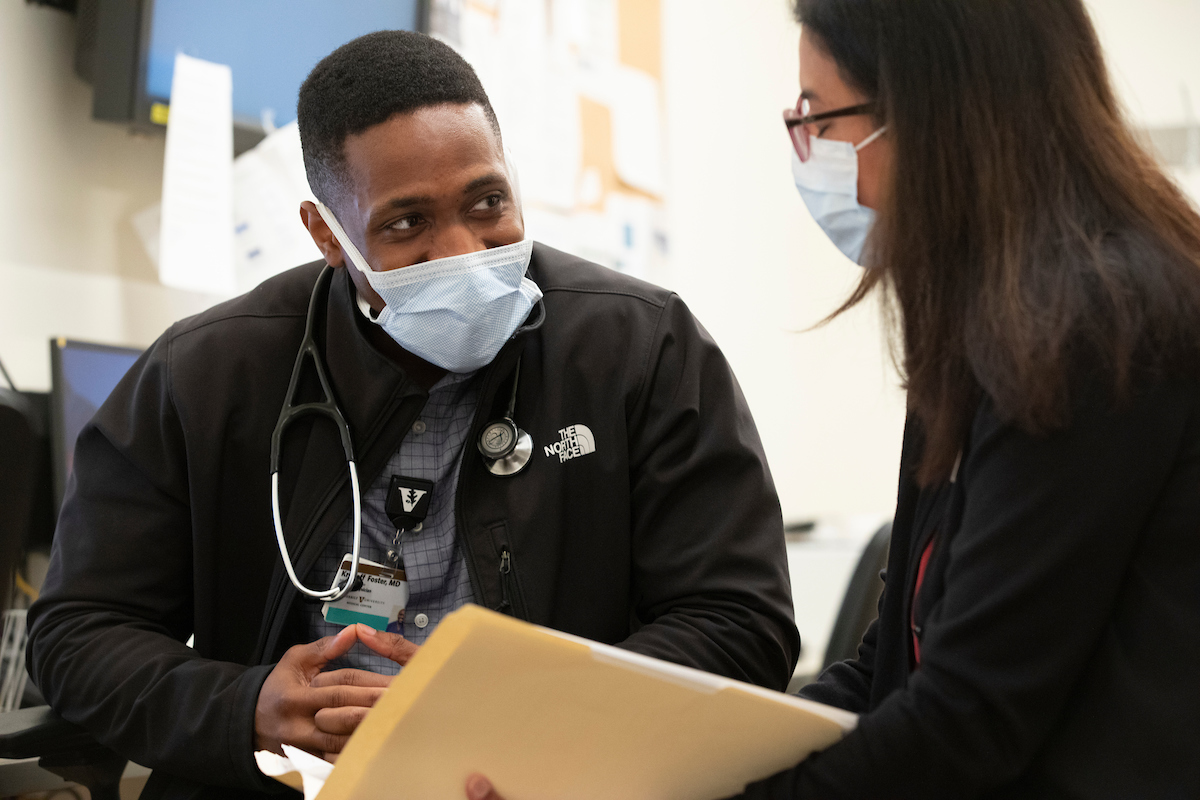 Clinical Experience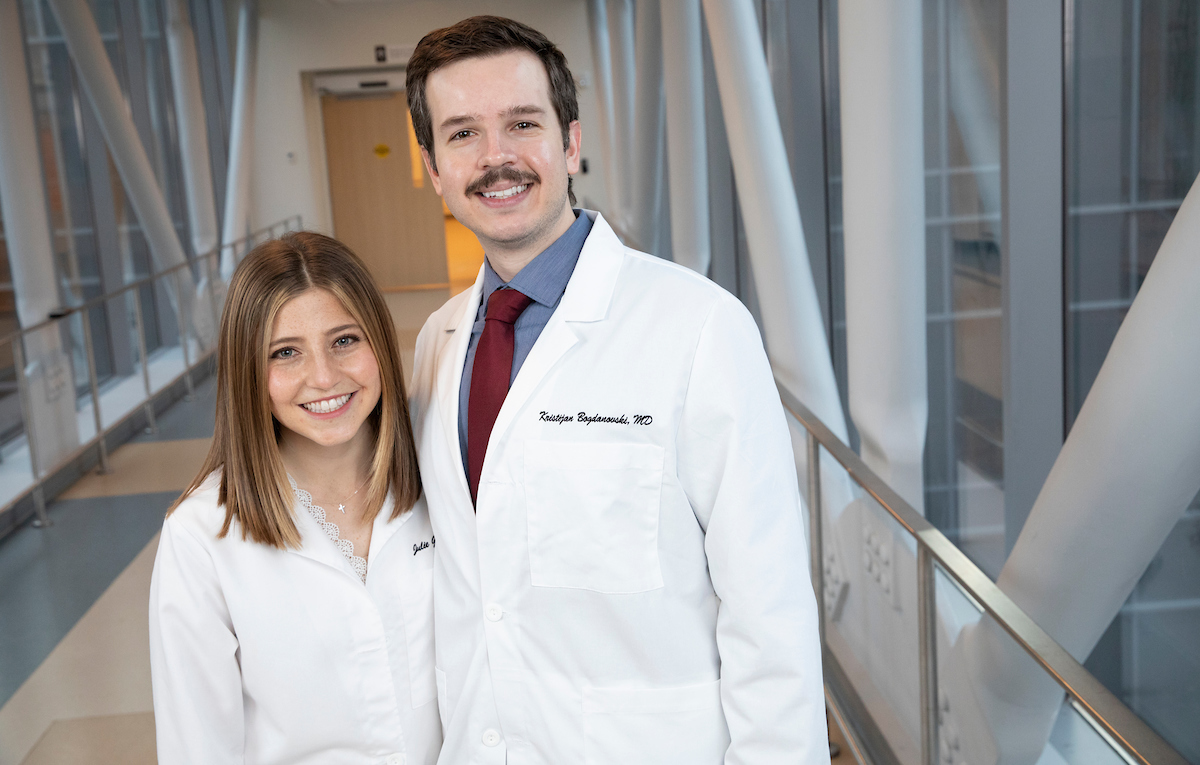 Camaraderie